Paris (France), Rüsselsheim (Germany), 30 August 2019 - The international engineering group SEGULA Technologies ("SEGULA") and Groupe PSA/Opel concluded today the transaction for the Rüsselsheim development centre and the Rodgau-Dudenhofen test facility in Germany. Around 700 employees will start work on Monday, 2 September in Rüsselsheim and Rodgau-Dudenhofen. The contract also includes the takeover of buildings, test facilities and equipment at both locations.
This operation follows a strategic partnership agreed in November 2018 between Groupe PSA/Opel and SEGULA to create a European engineering campus in Germany. This campus will initially focus on developing projects in the automotive sector with the aim of later expanding into other sectors.
The Engineering Campus is one of the few locations in the automotive industry which gathers a complete know-how from development and testing to validation of vehicles and powertrains. The creation of an excellence centre for engineering will drive innovation in the automotive industry and open up important growth opportunities for the workforce in Rüsselsheim and Rodgau-Dudenhofen.
Dr. Martin Lange, Managing Director Germany, SEGULA Technologies emphasizes:
"We look forward to welcoming our Opel colleagues. We have kept our word and can now expand our business in Germany with a motivated and highly qualified team. SEGULA Technologies will grow from Rüsselsheim and Rodgau-Dudenhofen into one of the leading engineering service providers in the automotive industry. We combine the excellent expertise of the engineers at Opel and SEGULA".
The Engineering Campus will further strengthen the Group's presence in Germany, one of its most important growth markets. SEGULA has already been present in this country, where it supports vehicle manufacturers and their tier-one suppliers in product and process development for the entire automotive sector. SEGULA is also active in Germany in light commercial vehicle development, car design and rail transport sectors as well as in other industries. Following this closing, SEGULA can now expand its operations in Germany thanks to the European engineering campus.
SEGULA's many years of experience in overall vehicle development coupled with state-of-the-art infrastructure and central location in Germany and Europe will enable the company to meet the growing demand for service development.
Rüsselsheim and Rodgau-Dudenhofen will also benefit significantly from the engineering campus: The campus is intended to sustainably strengthen the economic dynamism in the region.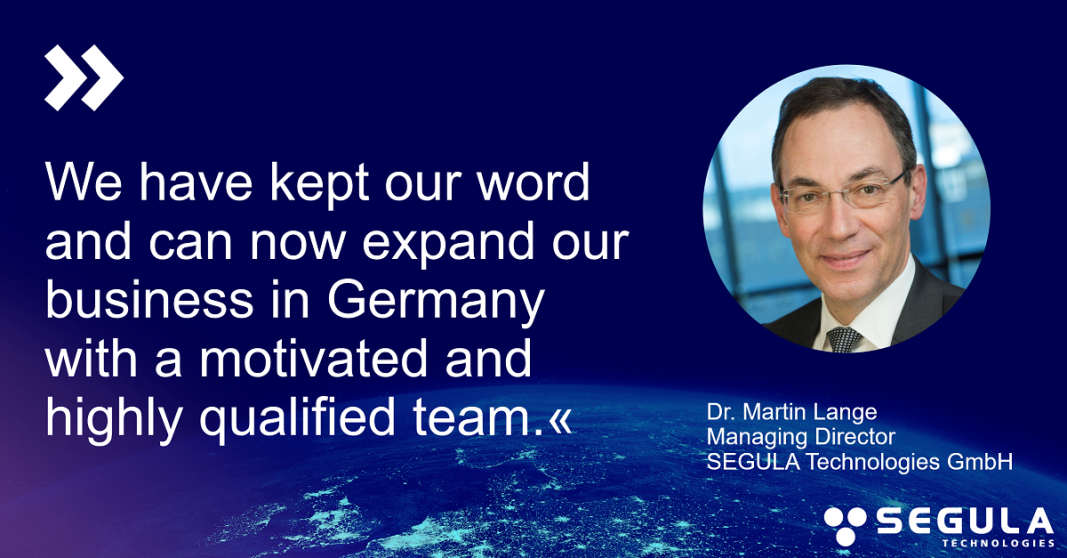 Press Contact