At a time when the business world is undergoing a digital transformation, Lamia Thibault, an engineer at SEGULA Technologies, is a perfect example of successful development in the digital field: after a Master's degree in mechanics and digital modelling at CentraleSupélec, and starting a career as an R&D engineer in a large construction group, Lamia Thibault joined TF1 in the Innovation Division; her numerous interactions with start-ups operating in the fields of Big Data and Artificial Intelligence, as part of TF1's open innovation approach, then encouraged her to specialise in these two fields, through training, moocs and bootcamps. In October 2018, joining SEGULA enabled her to complete her specialisation in digital technology: as a Data Science and Artificial Intelligence (AI) Pre-Sales Engineer, she is now in charge of developing the Group's Big Data and AI business.
However, despite the increasing needs of the professional world in the digital world and specialised training, few women have access to these great professional opportunities. A study by the digital trade union points out that women represent only 27.5% of digital jobs.
Reflecting the inequalities of professional development faced by the female population, this under-representation is also harmful to the economy: the digital market, although under stress, deprives itself of both a pool of talent and a precious source of creativity and innovation. The financial loss could amount to billions of euros, according to a European Commission study.
"Getting more women into digital professions is a key issue, both economically and socially." confirms Lamia Thibault. "Economically, because digital technology is a real lever for competitiveness and growth for companies. Doing without female talent in a sector that is as strategic as it is in need is just not an option. Socially, because we cannot be satisfied with a digital society thought up, developed and administered by men, for men."
For these reasons, SEGULA Technologies has today signed the Manifesto for the retraining of women in the digital professions initiated by Social Builder and Femmes du numérique (Women in the Digital World). https://www.reconversionfemmesnum.com/le-manifeste/
With this manifesto, SEGULA commits to implementing the following three measures:
Broaden our recruitment criteria to take account of all the potential and training path of candidates: cross-disciplinary skills, posture, initial and on-going training, etc.
Promote all types of professional careers, as they are vectors of wealth and experience.
Recruit people of all ages, because what matters is motivation, appetite, adaptability and learning ability.
The document was signed at a conference held at VivaTech in Paris in the presence of Cédric O, French Secretary of State for the Digital Economy, as well as various speakers, including Lamia Thibault, who came to talk about their careers and the strategies implemented by their companies in this area.
This manifesto confirms SEGULA's commitment to improving women's access to scientific and technical professions. The Group has been supporting the Elles bougent association since 2015.  Within SEGULA, some thirty employees are involved in this association as godmothers and "bridges" to combat stereotypes and encourage young women to consider careers in the scientific and technological sectors.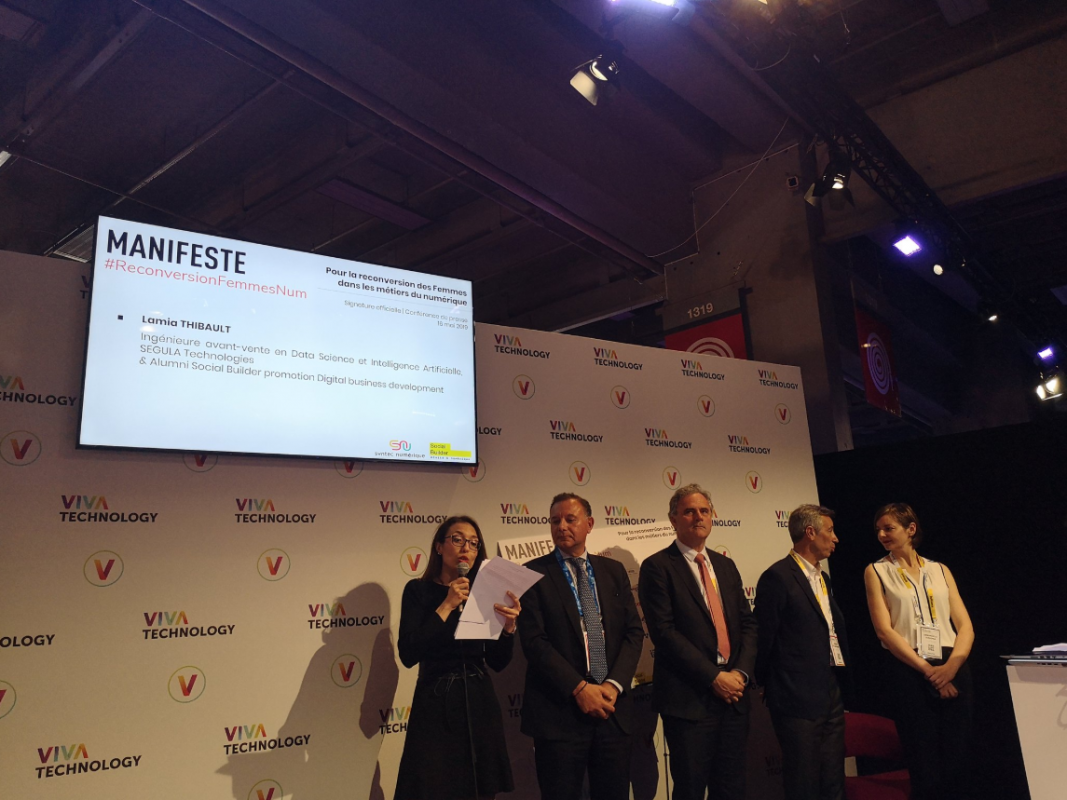 Press Contact